There is nothing quite like being the first one to cut tracks in the powder on a bluebird day skiing. The connection to nature as you glide down, knowing you are the first to experience the run for the day and that no one else will see what you are seeing right in that moment is priceless.  Words can't express the feelings involved.
The same feelings of connection, calmness and peace can be experienced when you are living your life on purpose and bringing your vision to reality. For many of us this involves speaking, living our truth and creating our lives from that place of harmony and knowing our Oneness with all.
Being the first one to pave the way for the others that will be following is often our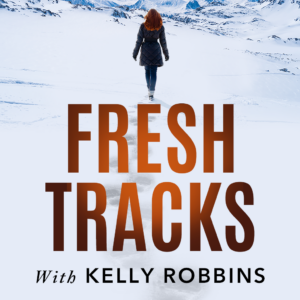 calling in business and in life. You are probably here today because you have something important to say. Something others need to hear and…. It's personal. It's spiritual. It's unique to you.
I can say with complete confidence that you wouldn't be here if you didn't have gifts to share with others. The interviews and information we'll share on our Fresh Tracks Podcast are designed with the clear intention of bringing to you the many different facets involved in living life on purpose, bringing your vision to reality, and helping others along the way.
Episode 000 provides background on who Kelly Robbins, MA is, why I started Fresh Tracks, and what you can expect in upcoming episodes.
Let's cut some tracks together!
Kelly Robbins, MA