Episode 42- Is Your Worrying Manifesting Disaster?
Did you know that the history of the word worry means to choke or strangle? How much of your time do you spend worrying – about anything? And how is that worry 'strangling' any good you are creating? In this week's Fresh Tracks show Kelly Robbins delves into the inner sanctuary of our mind and examines the effect worrying has on our lives. From the relationships we manifest to how much money we make, worrying plays a significant factor in our overall health, happiness and success. Kelly also goes in-depth on the topics of wealth and abundance to help you examine the roles debt and dependency play in worrying.
With tips to help you derail repetitive worrying and taking control of your thoughts, after listening to this week's show you'll easily be manifesting your dreams rather than repelling success! How do gratitude, responsibility and patience play a role in not only manifesting the life and business of our dreams, but creating anything we want from a healthy body to an abundant bank account? Understanding the significance of the love/hate relationship we have when we are dependent on someone and how our natural tendency to rebel can get us into debt is all covered on this week's show!
Show Notes:
2:00 – Which type of worrier are you?
5:45 – How worrying affects us emotionally, spiritually, mentally, physically
9:30 – What you need to know about lack
11:00 – The incredibly important yet subtle difference between lack and need
13:50 – The secret key to more abundance
16:00 – The spiritual significance of debt and the first step to getting out of debt permanently
18:35 – What is wealth and what causes wealth? The secret to creating a prosperous life
21:30 – The overlooked yet pivotal role of patience
24:00 – What it is to be responsible
25:45 – 4 solid tips for changing your worry habit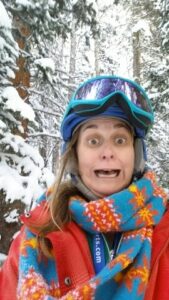 About Kelly Robbins
Author of Trust Your Next Step: Creating the Confidence to Cut Fresh Tracks, Kelly is the founder of the Fresh Tracks podcast and Kelly Robbins Coaching. Kelly helps people create their life their way through their business. Kelly believes that we each have a purpose and that purpose is unique to each of us. Getting clear on who you are, your talents and how you best help people allows you to create a business – in fact a lifestyle – by design. You succeed at this not by copying others, but by following your intuition and carving your own unique path in this world. This individuality is what attracts others to you. This is how you create your own happiness.
Kelly is a marketing coach, writer and seeker of truth that helps guide folks on their journey to self-empowerment, creating work and life as a fun adventure, and knowing how to lead the right clients to your door consistently. Known for her directness and truth-telling, you can visit www.KellyRobbins.net to learn more about the role marketing and personal development play in starting and growing a business and designing a life of your choosing.
Get your free Tracks to Cash 3 Video Training here now!