In episode 60 you'll discover how 25-year-old Josh Haynam grew his website business to a thriving, rapidly growing quiz-building business (with over 40,000 paid subscribers!) in four short years. Josh shares his recommendations on how to start a new company as well as insights into what didn't work for the first three years as they were starting out. Josh also explains the one strategy shift that grew their paid subscriber base by 300% in eleven months!
In this episode of Fresh Tracks you'll also learn the one exercise Josh continues to implement every time something takes up more than half his mental space and how you can do the same. You'll also discover why keeping a clear headspace has been so instrumental to his business success and the one reset that must happen regularly – particularly when you get stuck!
Show Notes:
1:15 – How, at 25 years old, Josh started and grew his business in four short years
4:10 – Josh's advice on how to start a new company
6:30 – How Josh went from creating a few custom quizzes to a repeatable product of 40,000 users
8:50 – The surprising way he gained Red Cross, Home Depot and other large brands
13:00 – The secret behind the quantum leap to 300% percent growth in 11 months!
19:00 – What kept Josh going during his slow growth years. And why he didn't give up
23:00 – The bold steps Josh took to be able to continue to think strategically to run his business
26:15 – How to know what's worth working on in a boot strap company.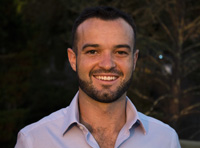 About Josh
Josh Haynam is the co-founder of Interact Quiz Builder, a tool used by more than 30,000 businesses including The American Red Cross, Home Depot, and Forbes. He's probably seen more quizzes than any other human on earth right now.
Website:  tryinteract.com