In episode 50 of Fresh Tracks we discuss three simple habits you can incorporate into your daily routine to more easily get things done, grow your business with ease, and create with intention.  Many of us struggle because we work towards our goals haphazardly and start off our work day by getting done what we 'have to' first. We prevent our success in our business by unconsciously blocking our happiness, not feeling whole as a person and spending our time trying to fit in rather than appreciating what makes us unique.
In this week's show we review what happens if you spend just a few minutes focusing on what's important before starting work each day. Taking a few moments to focus on your goals and move forward with intention can change everything. You will ultimately find you spend less time achieving more. Learning to love who you are and honoring your distinctness, stopping unsupportive patterns that block your happiness, consciously choosing and clearing your relationships, and caring for your work space are just a few of the characteristics of entrepreneurs that build thriving businesses that we discuss in this week's show!
The result of spending a mere five minutes a day with these habits is the difference in bringing dreams and visions to fruition in a concrete and repeatable way.
Show Notes:
2:00 – How the energetic force that runs your business works
6:00 – Tips for creating a healthy and productive work space
9:30 – The role intentionality plays in your day
12:35 – Money consciousness and circulation. How to keep the circulation flowing!
16:00 – Intentional happiness and ways we block our happiness
20:00 – Discovering where you do not feel you are whole as a person
24:45 – Learn to love your own distinctiveness rather than hide from it
27:00 – Developing the gift to see things as they are rather than how you want them to be
About Kelly Robbins, MA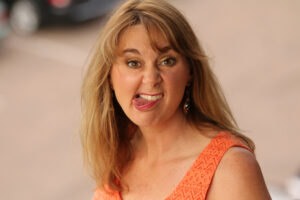 Kelly Robbins is the author of Trust Your Next Step: Creating the Confidence to Cut Fresh Tracks and publishes the Fresh Tracks with Kelly Robbins podcast and Kelly Robbins Coaching. Kelly helps people create their life their way through their business. Kelly believes that we each have a purpose and that purpose is unique to each of us. Getting clear on who you are, your talents and how you best help people allows you to create a business – in fact a lifestyle – by design. You succeed at this not by copying others, but by following your intuition and carving your own unique path in this world. This individuality is what attracts others to you. This is how you create your own happiness.
Kelly is a marketing coach, writer and seeker of truth that helps guide folks on their journey to self-empowerment, creating work and life as a fun adventure, and knowing how to lead the right clients to your door consistently. Known for her directness and truth-telling, you can visit www.KellyRobbins.net to learn more about the role marketing and personal development play in starting and growing a business and designing a life of your choosing. Kelly is a columnist for the American City Business Journals, a regular blogger for The Work at Home Woman, and created the highly acclaimed Make it Yours: Crafting Your Marketing with SOUL workshops.
Get your free Tracks to Cash 3 Video Training here now!
Save
Save
Save