Episode 04 – In this episode of Fresh Tracks we're talking with Madeleine Eno, copywriter and founder of www.InTheWritePlace.com. She explains why it's so important to share your unique story in your business and your marketing. It's what makes you different and it's the why and how you are cutting your own Fresh Tracks in this world. Madeleine shares best practices, common mistakes to avoid, and how to know when and where to use your stories to connect with your ideal client.
How and Why to Share Your Story in Business
2:06 – Why we are hardwired for stories
5:57 – Where to use your story in marketing your business
8:29 – Why seeing own own story is often hard
13:41 – Mistakes people make when telling their story
15:22 – Why staying vague in storytelling is killer
17:44 – How to know when to tell certain parts of your story and when not to
21:35 – Looking professional vs. creating an invitation
22:45 How we are designed to do what we do in this world
29:06 – Formulaic copywriting vs. using softer skills in copywriting
34:28 – Tips for folks that want to write their own story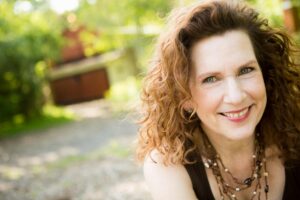 Fresh Tracks interview with Madeleine Eno, MA, writer, editor, coach and founder of www.inthewriteplace.com. She helps entrepreneurs who are blazing new trails deliver clear, compelling messages as unique as they are. In her "Golden Thread" sessions, clients discover the soul and meaningful core of their story, and then more confidently and profitably connect with their audience, speak on stage and package their services. They also feel a whole lot lighter and happier in business because their tribe knows and understands them, even before they've met.