In episode 32 of Fresh Tracks I speak with Danielle Watson, founder of The Purse Process. Danielle talks with us about the power of taking our many, oftentimes varied selves and integrating them into one that serves the world. How can we own that space in our own unique way? Danielle is a perfect example of this – she has taken her degree in archaeology and anthropology, a successful mobile yoga business owner, and the willingness to break the mold into becoming a successful coach. Danielle shares that reintegrating our many parts into one allows us to use our skills and knowledge in an unconventional way, which we call creating Fresh Tracks.
Danielle took her purse process across the country and helps people take a deep, no-nonsense view of how their actions are affecting their results and how their beliefs are guiding their actions. And yes, she does all this by going through your purse! In this week's show Danielle also shares her adventures doing her first Ted Talk and talks about her belief that every single person has the skills and knowledge that can be used in unconventional ways. If you're looking to create fresh tracks you probably already have all the skills and knowledge inside of you – the key is to look for a new context in which to apply them.
Show Notes:
1:45 – The journey of a Fresh Tracker…From archaeologist to mobile yoga instructor to founder of the purse process.
7:30 – Integrating your many parts and how that's where your Fresh Tracks start.
9:25 – Whatever you've collected reflects on who you are, your personal culture, and your beliefs about the world.
11:30 – The surreal experience doing a Ted Talk and her idea worth spreading.
15:45 – Danielle's major life event only 48 hours before her Ted Talk and how she didn't let it throw her off.
17:00 – Danielle's next adventures reintegrating her life and creating new Fresh Tracks.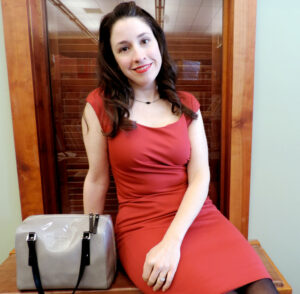 About Danielle Watson
Danielle Watson is a global provocateur, professional muse, choose your own adventurer, and the creator of The Purse Process®.
As an anthropologist who doesn't like digging in the dirt, Danielle was faced with either walking away from the field she loved, or rising to the challenge of uniting the seemingly irreconcilable. In the process, she hatched something irresistible: The Purse Process®.
Danielle's Purse Process® is a pioneering tool that applies tried and true principles of archeology in a fresh way, placing a decidedly modern and feminine spin on this dusty science. The Purse Process® is part of the unique tool kit Danielle uses as she guides women through restoring their core confidence, mentors them in achieving self-actualization, and teaches them how to turn their personal quirks into high-value professional assets.
Danielle's uncommon mix of enthusiasm, personal strength, femininity, and vulnerability has made this unlikely anthropologist a popular, pint-sized inspiration to women everywhere.