Episode 21- Therese shares her stories and insights into owning your own value, being confident and comfortable talking about what you do, and sharing your personality in your marketing. Therese's humor shines in today's show as she shares many of her own stories on how she has mastered love, business and making money. If you want to be successful in business, particularly if selling to women, you must allow your personality to shine. Yet, many of us are afraid to be vulnerable and share our true selves with our community.
Therese shares five tips on how to be conscious of how you react to situations in order to become aware of how you are being in your relationship with money. Being a grown-up and becoming conscious of your thoughts, actions and reactions about receiving in life is important to making and keeping your profits. Therese also shares how to get in resonance with money and why overcoming your money blocks are key to making the money you desire.
Show Notes
3:30 – Owning your value, talking about what you do, and leading with your personality
6:16 – What you need to know about making money and Therese's personal lessons she had to work through to master it
8:52 – How to understand your relationship with money and receiving.
9:50 – The relationship dance between men and money
12:50 – Tips to becoming conscious of your relationship with money
14:40 – Why your personality in business matters
20:55 – 5 Tips for finding your unique personality/branding for your business
25:32 – Where hidden visibility issues can sabotage your success
30:00 – Being 'connection worthy'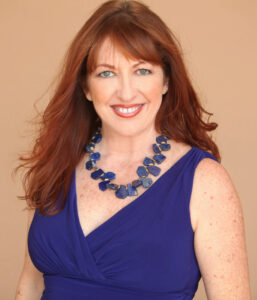 About Therese
Known as the "Money Mindset Mentor and Business Catalyst, Therese Skelly works with service based entrepreneurs who love what they do and are ready to grow their business in a much easier and more authentic way.
Therese helps those whose business is part of their life purpose clear money blocks so they can learn how to own their value and have powerful, authentic sales conversation.  This means they will make more money, serve more people and have a business that makes them happy.
Having walked the entrepreneurial journey for many years, Therese has created a way to teach her clients how to get their gifts in the world, so they can make the huge difference they desire to.
A former psychotherapist, combined with years of marketing/strategy and consulting, Therese offer's the perfect blend of both "inner game" work and very tactical, real world strategies that allow her clients to see the results they desire.  You can learn more about Therese at www.HappyinBusiness.com