In episode 38 of Fresh Tracks I speak with author and spiritual teacher Edwene Gaines about money and prosperity. Money plays such an important role in our ability to cut Fresh Tracks that it's presence, or lack of presence, in our life is often the place we make decisions from. Lack of money is often the excuse we give for not stepping into our dreams, for creating those Fresh Tracks in life. Most of us are not aware that there is more to making money and creating a prosperous life than hard work.
Edwene Gaines shares her wisdom and personal experience on how each of us can create prosperity in our lives. From living your divine purpose to understanding the powerful role discontent has in our lives, Edwene shares that trusting our own personal guidance system and understanding Universal Law is what it takes to live a prosperous life. Edwene's charm and humor motivates and empowers all of us to be the master of money and enrich our lives. All you need to do is give yourself permission to do something different and you just might find a place where life becomes a lot of fun and you have joy and prosperity in your life.
Show Notes:
3:20 – Faith and its role in creating a prosperous life
5:16 – The first step in creating prosperity
8:22 – The important role discontent plays in your life
11:50 – Creating your life consciously vs unconsciously
15:00 – Can you live your divine purpose and a live a prosperous life?
21:00 – You've got to have the gumption to grow your business and make money!
25:00 – How lack of forgiveness is affecting your prosperity
30:00 – What debt is REALLY about and how to get rid of it forever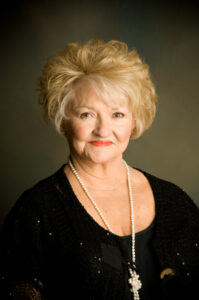 About Edwene Gaines
Edwene Gaines, author of the book The Four Spiritual Laws of Prosperity, A Simple Guide to Unlimited Abundance and is owner-director of the Rock Ridge Retreat Center in Valley Head, Alabama. She has made a 100% commitment to the transformation of the abundance consciousness of the world.
An ordained Unity minister since 1979, she is also president of The Masters' School. She has trained approximately 500 Master Prosperity Teachers. She travels about extensively presenting Prosperity Workshops. She has created and markets CD's and affirmation cards through her company Prosperity Products.
A Certified Fire Walking Instructor, she facilitates the fire walking Ceremony several times each year.
Edwene has served as a member of the International New Thought Alliance Executive Board. In 2006 she was honored by the International New Thought Alliance with the Torchbearer for New Thought Award. That same year she was honored by Unity Worldwide Ministries with the Light of God Expressing Award at their annual conference. In 2014, she was honored by Emerson Theological Seminary with an honorary doctor of divinity degree.
In 2016 Edwene was awarded an honorary doctorate in humane letters by the Centers for Spiritual Living Holmes Institute.
She is committed to power, passion, prosperity, and performance.
To learn more from Edwene visit www.ProsperityProducts.com